Count Us All
count us all is a zine that touches the surface of important voting rights legislation, events, advocates, and past and current voter suppression tactics.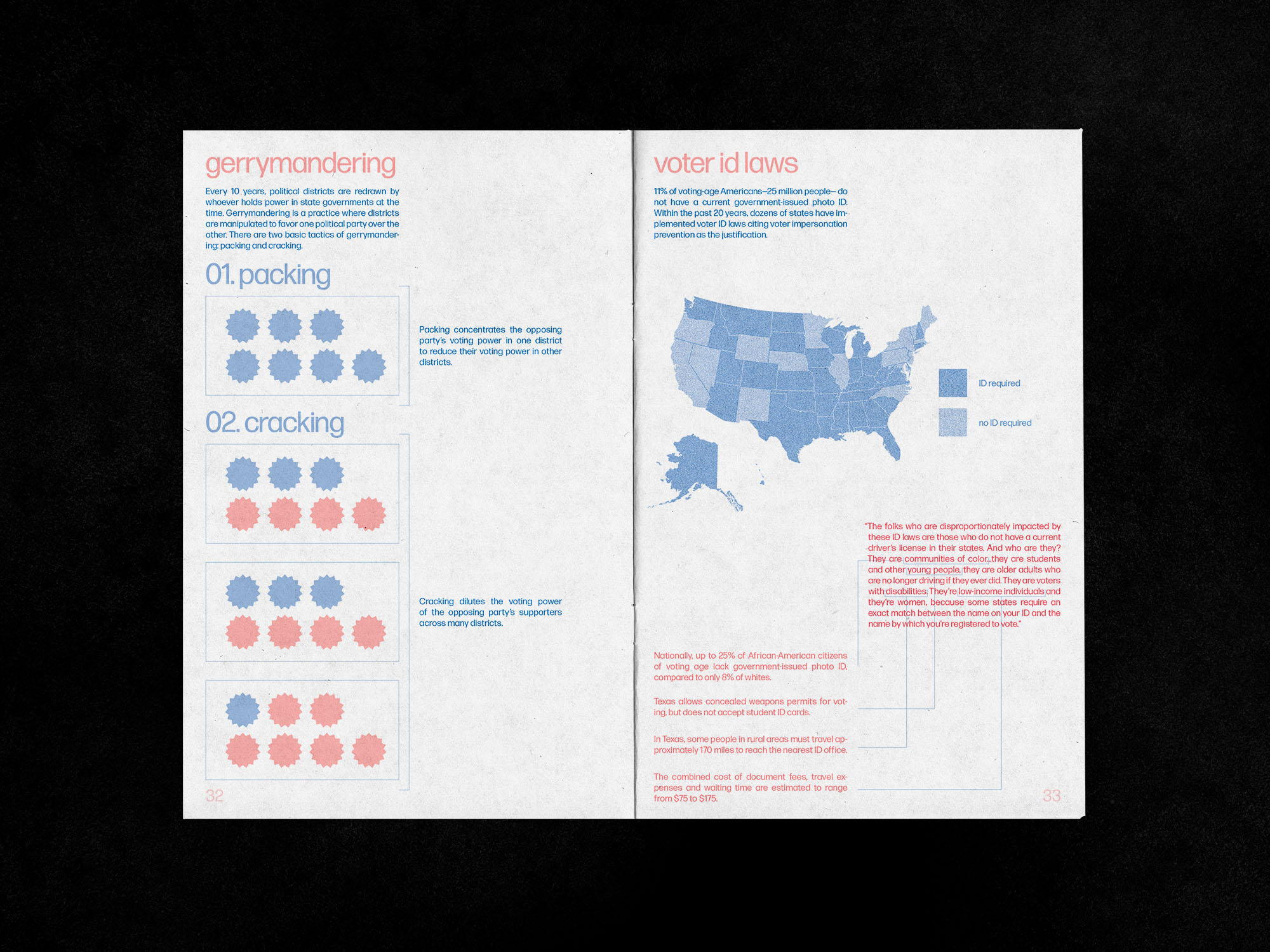 Fair Fight was founded by Stacey Abrams in 2018 to promote fair elections in Georgia and around the country, encourage voter participation in elections, and educate voters about elections and their voting rights. To learn more about the organization and ways to get involved, visit fairfight.com.


Note: The majority of copy in this zine is not my own. Minor edits were made to writing that was pulled from the following sources:

The Americans with Disabilities Act Turns 21 (and is Ready to Party). The Angry Negro. 2011.

"Am I Not a Man and a Brother?": The Political Power of the Image. The Black Atlantic, Lindsey Barrett. 2014.

Civil Rights Movement: Literacy Tests and Voter Applications. Civil Rights Movement Archive. 1999.

The Electoral College, explained. Vox. 2020.

Here's what your Massachusetts 2016 presidential ballot looks like. Mass Live. 2016.

In 34 states, you'll need to show ID to vote on Election Day. Business Insider, Grace Panetta and Yuqing Liu. 2020.

John Lewis. Biography. 2018.

The man who rigged America's election maps. Vox. 2019.

"Massive Resistance." Equal Justice Initiative, Segregation in America. 2013.

Oppose Voter ID Legislation Fact Sheet. American Civil Liberties Union. 2017.

Preliminary-Post-Election Report "Root Cause of Voting Obstacles." Election Protection. 2018.

SNCC. History. 2009.

Stokely Carmichael. History. 2009.

US History II "Vietnam." American Yawp. 2020.

Voting Rights Act of 1965. History. 2009.

Voting Rights: A Short History. Carnegie Corporation of New York. 2020.

Why America needs automatic voter registration. Vox. 2018.

Women Who Fought for the Vote. History. 2009.